Luvlap galaxy stroller (3, pink, black)
3-Position Adjustable Seat Recline (Added Comfort)
This feature lets your little angel sit up, rest, and even take a refreshing nap as you can adjust the stroller to a 180-degree sleeping position. And once your baby is asleep, you can comfortably wheel him/her around while you go about your day.


5-point Safety Harness (Prevents Mishaps)
This safety harness system secures your baby around the shoulders, waist, and in between his/her legs to ensure that they don't slide off or try to climb out of the stroller.


Front and Rear Wheel Brakes (Added Safety)
With these brakes, you can stop the stroller in case it starts moving without your knowledge, or you can keep it stationary so that you don't have to constantly keep watch on the movement of the stroller when you grab a quick bite to eat.

Front Wheel Swivel with Lock (Easy Maneuverability)
The front wheels of this stroller come with a 360-degree Swivel that allows you to easily maneuver the stroller. You can also lock the swivel wheels for a straight-directional stroll.


Reversible Handlebar (Allows the Baby to Face You)
You can reverse the handlebar of this stroller so that your baby faces you while you go about your stroll. This reassures the baby that you're with him/her and provides some quality bonding time between you and your baby.


One-hand Folding (Convenient Folding)
With this feature, you can fold the stroller with one hand (while holding your baby in the other) and place it in your car after your stroll.


Extendable Double-layered Canopy (Added Protection)
This Double-layered Canopy protects your baby from harsh sunlight and strong winds.


Detachable Food Tray (Holds Baby's Bottles and Teether)
This Food Tray helps hold your baby's feeding bottles or teether. It also acts as a safety bar for your baby to hold on to when you're on the move.


Adjustable Foot Rest (Keeps the Baby Comfortable)
You can adjust the footrest of this stroller as per the comfort of your baby so he/she can sleep and sit comfortably.


Looking Window in Canopy (Easy View of Your Baby)
The Looking Window in the Canopy of the stroller helps you keep an eye on your baby when the Canopy is closed.


Large Shopping Basket (Added Storage Space)
This basket can be used to store diaper bags, toys, and more when you're out on a stroll with your little one.


Back Pocket (Store Small, Handy Items)
You can use this storage space to store small items and valuables conveniently.
Advertisement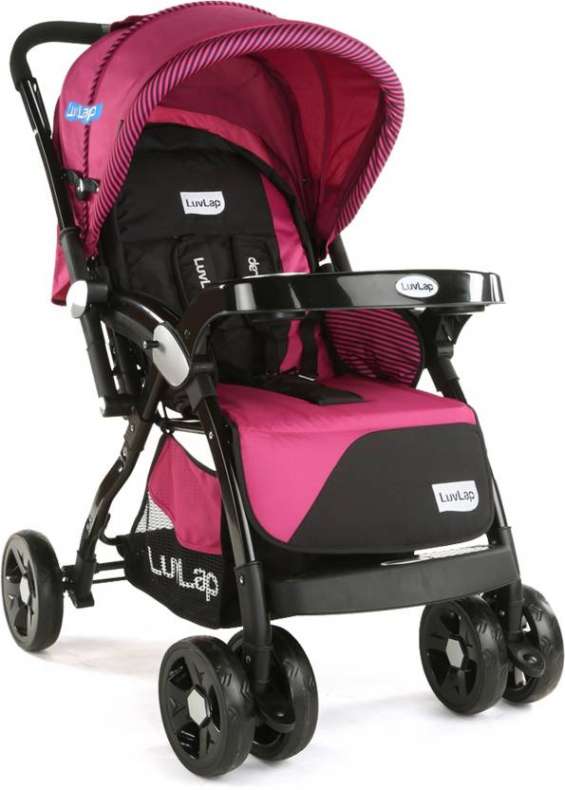 Luvlap galaxy stroller (3, pink, black)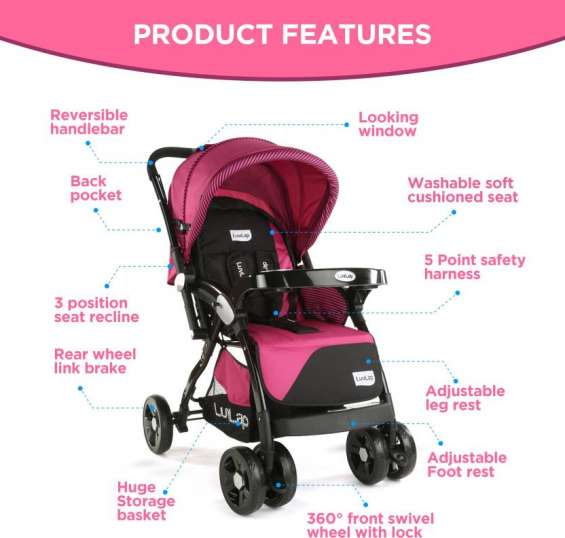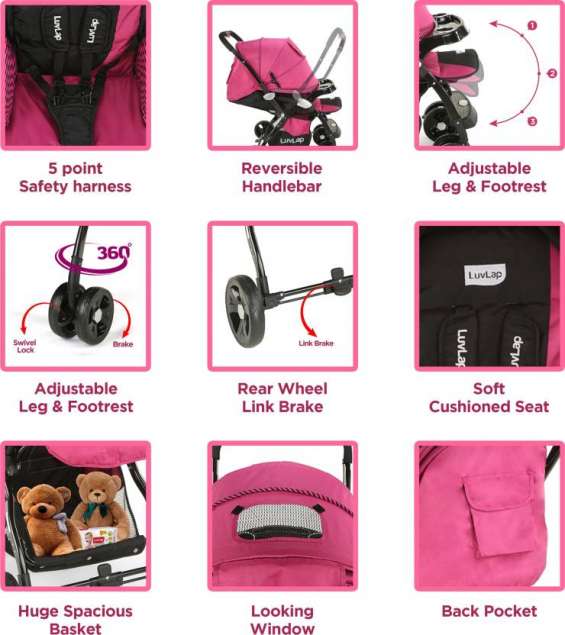 Advertisement

Write review
Leave your comments on this ad
Offensive messages and spam will be removed