Disc granulator price application and working principle:
Disc fertilizer granulation machine application
Disc granulator is mainly used for making compound fertilizer with low/medium content, granulated fertilizer can be compound fertilizer or single quality fertilizer.
Fertilizer disc granulator working principle
Adjust the balling disc from 40 degree to 55 degree angle. Raw material powder in the fertilizer blender is evenly moistened by atomized water, then delivered the raw materials into the pan granulator. The raw materials moisture should be controlled from 20 to 30%. The materials powder are added directly into the disc granulating machine, and disc granulator for sale will rotate in a certain speed. Due to the material adhesion and plasticity, the pellets can be bond each other and grow up gradually in the course of the campaign.
Write review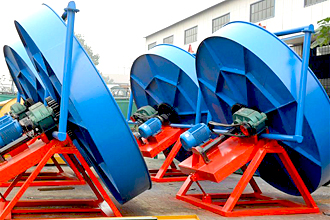 Disc fertilizer granulator
Write review
Leave your comments on this ad
Offensive messages and spam will be removed